Davana oil is another gift from the Artemisia genus. What a wonderful fragrance it radiates ! Its essential oil is known in the world of Aromatherapy for its very special herbal-sweet perfume notes. Botanically known as Artemisia pallens, Davana is a member of the family, of Asteraceae. The herb is indigenous to the southern parts of the Indian subcontinent, especially the southern states of Karnataka, Andhra Pradesh, and Tamil Nadu – where it has been traditionally cultivated and harvested for religious, medicinal, decorative and culinary purposes. Surprizingly enough, it belongs – as mentioned above – to the genus of Artemisia which usually has a very strong bitter fragrant profile. But, exceptions are possible… like with the Tarragon which is also an Artemisia… I use to say: in South India no plant can be really bitter… 🙂
Since times immemorial Davana has played a specific role within the religious rites of India. After harvesting, the precious flowers are offered to Lord Shiva, worshipped as the God of transfor-mation destroying and renewing the divine energy-fields of cosmic life. The sacred plants are placed on his altar as gifts of devotion at dawn and are removed when wilting at dusk to be dried for a week and applied for further use.
As to the botanicals, Davana appears in two distinct morphological types: smaller and larger bushes which also flower at different times. Like many other Artemisia plants, Davana unfolds a foliage of bluish-green leaves and it is from these that the essential oil is derived. The bluish-green colour is often an indicator of a ketonic bio-chemical "background". From green to blue… as much as this is a signal of rising auric energies in the human system, the plants have their own ways… . And then the softness of the leaves in so many ketonic plants… (Davana, Santolina, Sage, most of the Artemsias…). Quite a plant signature too in its own way. For me it is not surprizing that Davana is linked in Hindu culture to the God of Transformation, Lord Shiva.
The increasing demand of the perfume and cosmetic industry from the 1970s onwards has fueled a growing need for the cultivation of this plant. Davana is an attractive and costly ingredient in perfumes and cosmetics such as body creams, bath oils, male toiletries, and eaux de parfum.
The Essential Oil and therapeutic potential
Davana essential oil is extracted by steam distillation, ideally from plant material that has been dried for 2-3 days. It is mainly the flowering herb that is used. This yields a long-lasting oil of yellowish to green colour with a distinctive balsamic fresh herbal-fruity aroma modified by some nearly woody profile in the background. It also reminds one a bit of vanilla and strawberry. When applied on the skin, perfumers say that it smells differently on each person – a character which makes its use very tempting for very personalized perfume notes and fragrances.
Davana is part of the Indian folklore medicine for treating diabetes and high blood pressure. There have been some suggestions in the scientific literature that Davana may be able to normalize aspects of hormonal disorder thereby also lowering blood sugar levels. As research studies show already more than 20 years ago, Davana essential oil can be helpful for treating diabetes mellitus. Recent studies show the high antioxidant property of Davana oil thereby helping to reduce the risk of ccertain chronic diseases, cardiovascular problems and even cancer.
Davana essential oil – like all the Artemisias – is strongly anthelmintic and therefore a natural remedy against parasytes of the digestive system such as ring worms and other nematodes.
The oil has a high concentration (about 50%) of a sequiterpene ketone called davanone. In common with most ketonic oils, this gives the oil expectorant properties useful for obstructive conditions of the respiratory tract. Its antiviral and antiseptic properties give the oil a wide range of other applications. The major biochemical constituents of Davana are davanone, davan ether, linalool, davana furan (responsible for the characteristic fragrance of Davana), methyl- and ethyl-cinnamate, geranyl acetate, nerol, sesquiterpenes and others……
Davana essential oil is also a natural anti-septic and anti-inflammatory agent. It is used to treat both internal and external infections. It is very helpfull for getting rid of micro organisms affecting organs like kidney, bladder, urethra and the urinary tract. A 2009 research for example on 'The anti-microbial screening of Artemisia pallens' published in the International Journal of PharmTech Research, USA, shows that the extracts from Davana possess antimicrobial activity against the bacteria Bacillus cereus.
Davana essential oil also has also powerful anti-viral properties. With its ability to penetrate the protective layer of the virus called cyst, it can eliminate viruses without a trace. Because of this attribute, it has been extensively used to treat viral infections such as cold, cough, influenza, measles etc. cf.
https://ayurvedicoils.com/essential-oils-info-buy-purchase_davana-oil_1358.html
Psychology
Davana is widely prescribed in Ayurveda, India's ancient herbal medical tradition. It is used in Ayurvedic formulations as an aphrodisiac and mood elevator. The essential oil is also reputed to be the second most potent aphrodisiac after Agarwood oil (Oud). And it is helpful in many kinds of psychological problems like nervous tension, anger, depression, shock, trauma etc. With its very special – we can say "profound" – energy radiance Davana has a strong potential for relaxing the nervous system and restoring layers of lost tranquility. This can be via a warming "abhyanga" (Ayurvedic massage), an energy restoring foot-massage, a warm bath with a few drops of the oil mixed with some carrier oil or just by smellig or inhaling the oil from a little bottle in order to immediately appease the Amygdala, our stress and anxiety switch in the brain. The deep spiritual and harmonzing energy will be felt in no time. With its strong relaxant ability the oil works particularly via the limbic system of the brain through olfaction or short term inhalation. The bodie's muscles and tissues react and relax imediately to the call of these neuronal messengers reflecting also in a certain increase of inner wakefulness, mindfulness as a result of the special alchemy of this beautiful gift from the plant Kingdom.
Female harmonizer – hormonizer 🙂
One feature of the essential oils is that they are also Nature's hormones for the plants. They govern inside the vegetal kingdom manifold aspects of immune defence, hoemeostasis, growth, yield, allelopathy, multiplication, procrestion etc. As such, essential oils can often serve as hormone balancers for the human female or male system. Davana oil is used traditionally in Ayurvedic medicine for treating difficulties such as menopausal problems which are often linked to psycho-emotional stress and disorders.The oil has natural emmenagogue properties since it effects the blood flow towards the uterus and thereby can regulate a blocked female cycle. Some drops of Davana – together maybe with some drops of Anise of Fennel oil – blended into some carrier oil like Olive or Sesame oil and massaged onto the lower abdominal area is an easy remedy against menstrual cramps and can in very short time rebalance emotional downs, depression and all kinds of vata imbalances leading to nervousness, tension and feelings of burn-out.
Eases respiration
As a member of the Artemisia genus, Davana has a natural affinity to the respiratory system where an imbalance of kapha dosha (Ayurveda) can lead to colds, coughing, brochial congestion etc. Bacterial or viral infections of this area which is also particularly linked to the air and space element can create mucus and phlegm and trigger different kinds of breathing difficulties. The ketonic biochemistry of Davana is a good helper for such problems because ketones – we have seen this many times – dissolve phlegms, mucus, also excess fat etc. The oil therefore has a beautiful expectorant capacity and takes care specially of those germs which hinder the respiratory passage.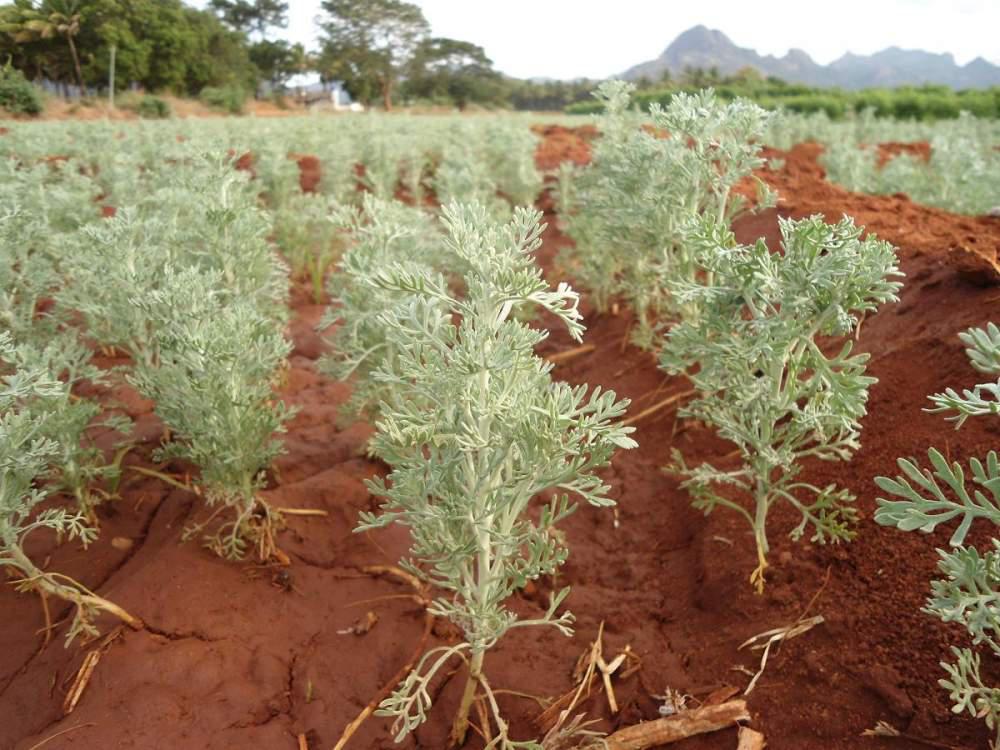 A goodpractical way would be to add a few drops into the bath tub and do slow breathing exercises for a few minutes. Also sitting for a few minutes in front of a fan diffuser or micro-diffuser filled with some Davana oil can be very efficient. Steam inhalation or blending 2-3 drops of the essential oil with some carrier oil for an ointment of the chest and the back can also bring quick relief. Or rubbing some drops of the pure essential oil – which is not dermocaustic by the way – on the inner side of the lower arm where the lung meridian is situated is another helpful way to access the respiratory system.
A good skin protector as well
Davana oil has an amzing capacity to protect also the skin against all kinds of dermal inflammatory or Pitta (Ayurveda) problems. The oil is a naural anti-septic and can be a good solution against acne for example, skin rashes, pimples, boils, even stretch marks. Very helpful can be to mix the essential oil with a few drops of Neem carrier oil – a blend which can take care in a speedy way of major skin irritations and even severe skin conditions like psoriasis etc. As a natural anti-septic and vulnerary helper Davana oil is also a good choice for healing wounds and cuts. In this case it is also recommended to blend it with some resinous oil like Myrrh or the fabulous "leaf-resin" oil : Cistus. Davana's vulnerary quality is one of its beautiful aspects as described in Ayurveda and can be extensively used in manifold ways for our dermal hygiene as well as in our home-pharmacy for urgency treatments.
Creates a clean atmosphere
Who would not want to have and use natural ways to create a healthy atmosphere – specially in our present situation of the Covid-19 crisis ? Davana essential oil is another miracle oil for purifying contaminated air. Microbes of all kinds have little chances to survive in a room which has the micro-and nano-particles of Davana oil floating around in the air. There is large scientific evidence today to show that air-borne particles of germs "in collision" with air-borne particles of essential oils get cleared away due to the strong desinfectant power of numerous essential oils.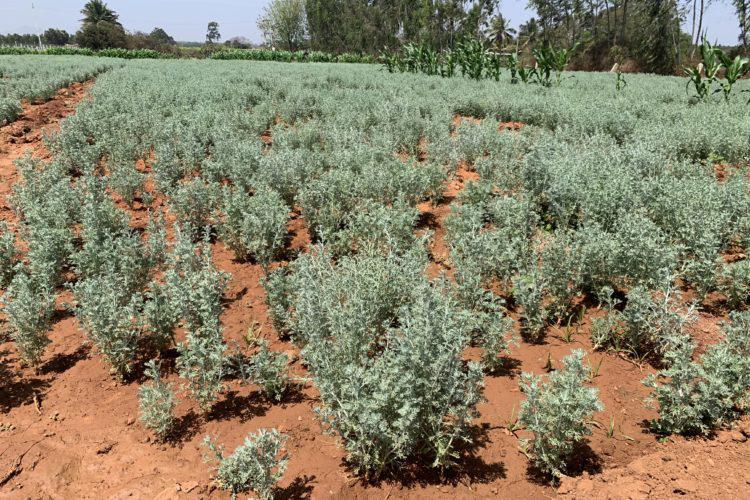 We should not forget :In medicine of the respiratory system 2 of the numerous practical applications of essential oils are
Olfaction mainly via the nose direct to the brain
Inhalation mainly via the lungs to the blood
Both ways are a very direct approach to the body and give easy access not only to the bronchies, lungs, and brain, but influence sponaneously also the cardio-vascular system. This is specially helpful for sensitive people for whom inhalation and smelling of essential oils is a safe and reliable method – often better than oral intake. And it is a very soothing way to cool down excitation on one side and help against fear and depression on the other side.
"Scientific research and practical experience have shown that the use of purely biological essential oils, atomized by using a micro diffuser, is highly effective against viruses and therapeutically against the symptoms of Corona disease. The advantage is the general applicability, the high efficiency, the ease of procurement, the positive effect on the psyche – the indoor air is disinfected, the symptoms are relieved, the psyche is raised and the effects are beneficial for everyone." writes pharmacist Natalie Scherf , former member of the Hodgkin Laboratory at the University Clinic in Cologne in a recent letter these days to Professor Dr. Med Florian Klein, Head of the Virology Department of the University Clinics in Cologne and Bonn /Germany
And an article published by BMC Complementary Alternative Medicine. Nov 15 2010 writes :
"The lack of toxicity and potent specific viral inhibitory activity suggest essential oils may be helpful as a possible anti-viral drug for control and treatment of influenza virus infection. They could potentially be used as a non-toxic way to cleanse surfaces, or be dispersed to eliminate aerosolized virus particles in confined areas….. " (Published by BMC Complementary Alternative Medicine. 2010 Nov 15;10:69. doi: 10.1186/1472-6882-10-69)