Geranium oil – with its Latin genus name Pelargonium – belongs to the Geraniaceae plant family. The beautiful plant has its origin in South Africa. Today it occurs in many different species, most of which grow in North Africa, East Africa, Egypt, and Middle East regions, but it is also abundantly found in the gardens of Southern Europe.
Most Geranium species are cultivated for decorative purposes, only a few like Pelargonium roseum, Pelargonium graveolens, Pelargonium asperum, Pelargonium tomentosum and Geranium macrorrhizum are used for the production of essential oils. The high-quality oil from the Bourbon Geranium (Pelargonium graveolens) is especially favored in the perfume industry and comes mainly from Réunion island and South Africa.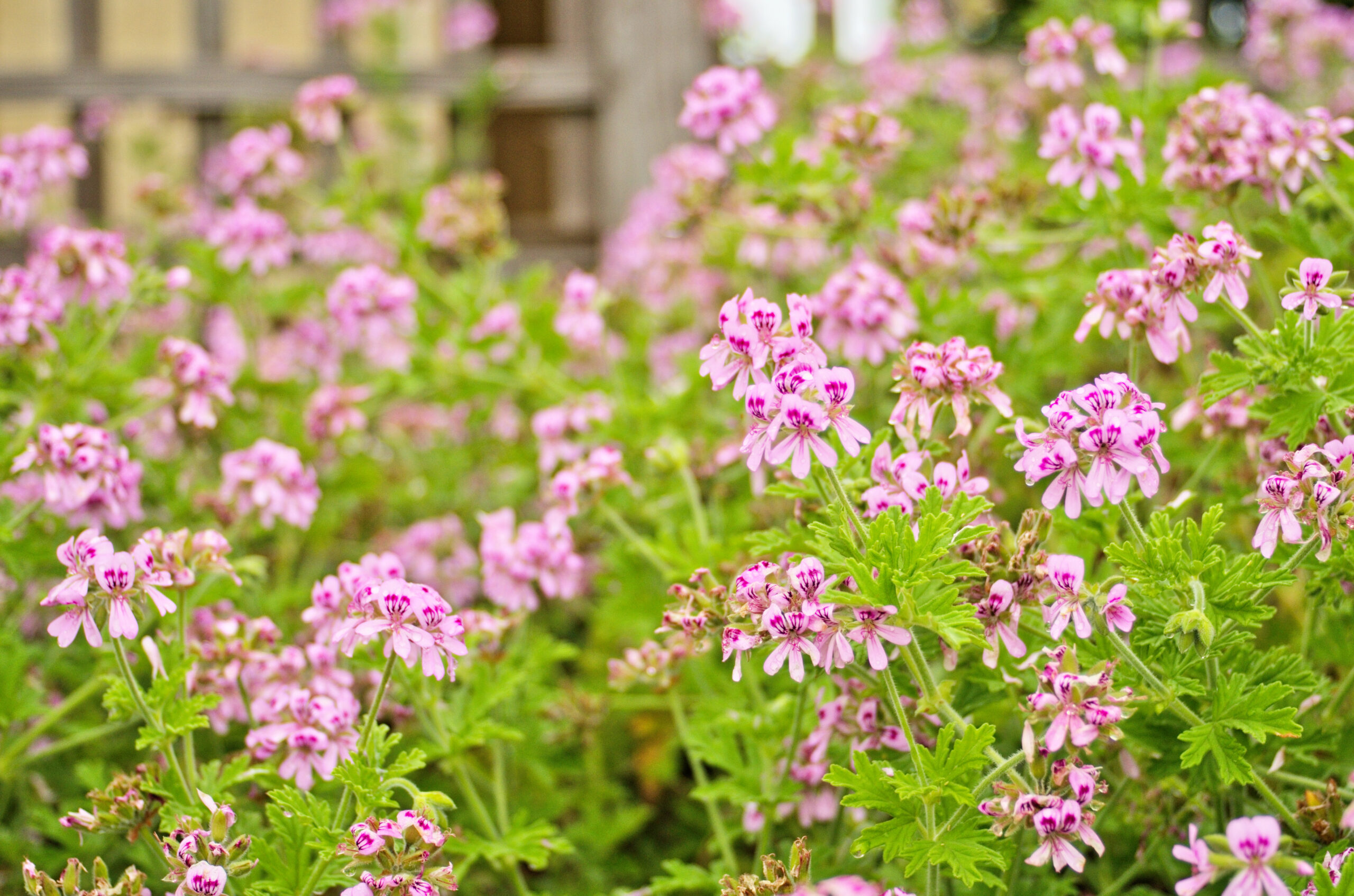 The Cranesbills, the English name for the Geranium family, comprise 422 species of annual, biennial, and perennial plants. The name "cranesbill" stems from the shape of the Geranium seeds which resemble the bill of a crane. Also, the botanical genus names "Geranium" and "Pelargonium" originate from the Greek "geranos" meaning "crane" and "pelargos" meaning stork.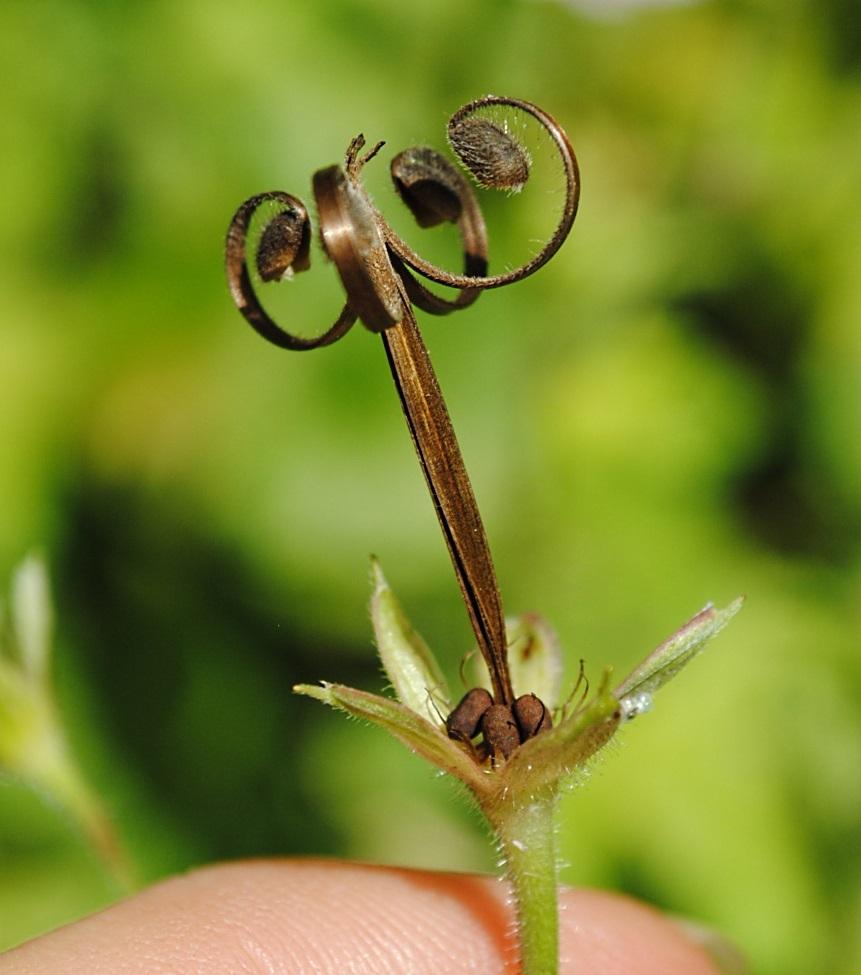 Geranium is a perennial hairy shrub and can reach about 1 metre in height. The leaves are pointed and serrated at the edges, the flowers are small and pink in colour. The whole plant has a strongly aromatic scent. The essential oil is obtained through steam distillation of the leaves, stalks and flowers. Its highly attractive rose like fragrance makes it blend well with for example Bergamot and other Citrus oils, Clove, Jasmine, Juniper, Lavender, Neroli, Rose and Sandalwood. The main chemical ingredients are Citronellol, Geraniol, Citronellyl-Formiat, Geranyl-Formiat.
Geranium was introduced to Europe just before the 17th century and quickly gained its reputation as a protective plant against evil spirits – a reason why it was mostly cultivated around human habitats and in gardens.
Some remarks on Geranium oil's health aspects
We can call Geranium a spicy Rose – with its beautiful capacity to alleviate fears and give back life force and joy. Geranium oil is a toner of great amplitude and strength. It is particularly capable to revitalize female energies through its effects on the endocrine system, especially during menopause. A remarkable property of Geranium is also that it helps in cases of engorgement of breasts and oedema.
Warming and purifying, it has also excellent regenerative properties for the liver and spleen and enhances circulation. And its capacity to interfere positively with fat metabolism makes it a good choice against cellulitis. Apart from that it is able to clean the respiratory system in case of tonsillitis or sore throat for example.
Astringent, detoxifying and regenerative Geranium is also one of the best oils against diverse skin problems such as oily or congested skin, inflammations, dry eczema, broken capillaries, varicose veins, dermatitis etc. – and it is particularly effective to prevent premature aging of the skin. Also, its haemostatic and pain-relieving effects should be emphasized. The oil's wound healing and disinfecting properties, as well as its skin cell-regenerating, cicatrizing qualities, find application in the cosmetic and pharmaceutic industry – in addition to its manifold uses in soaps, creams and perfumes. The food industry also treasures it as a flavouring component in soft drinks and alcoholic beverages. Furthermore, it acts as a mosquito repellent.
Geranium helps against chronic anxiety, excitation and nervous tensions. Its vital, sensual presence is clear and direct – making it one of the best oils with aphrodisiac qualities. It creates an emotionally elevating atmosphere – therefore useful for handling communication problems.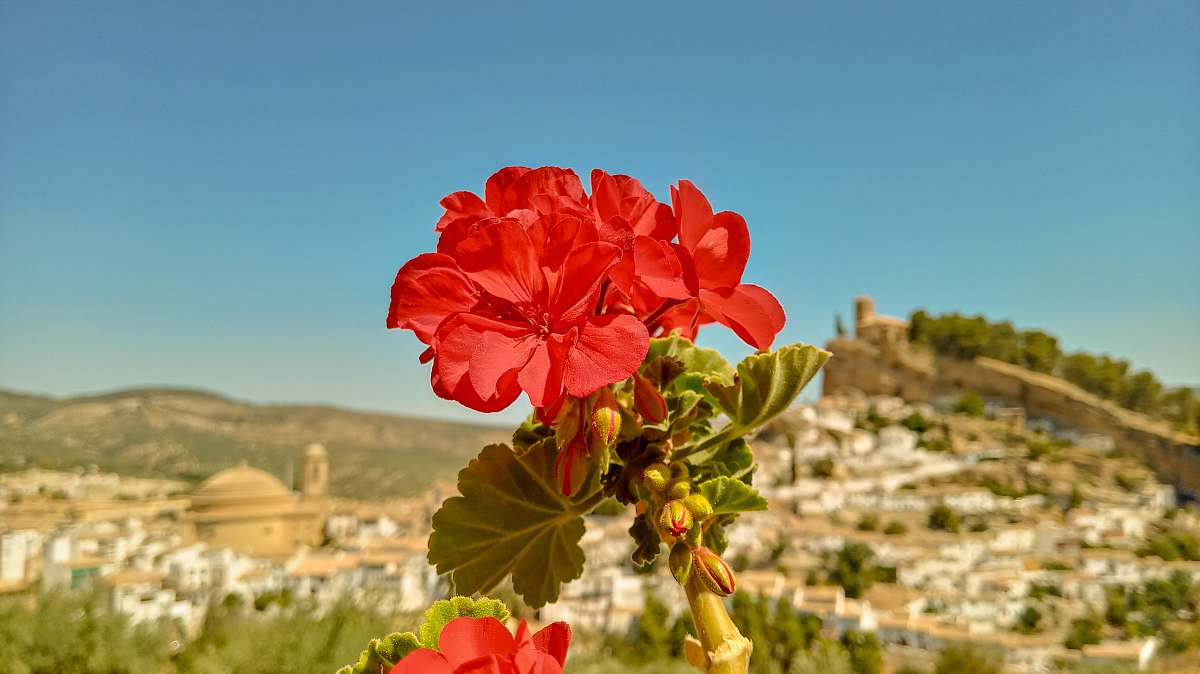 Examples of research on Geranium's health aspects
• It is effective in case of small bleedings because of its recognized healing properties
• It promotes the assimilation of sugars and starches
• Studies prove the analgesic and anti-inflammatory effect of Rose Geranium essential oil
• Research shows that Geranium is a powerful antifungal and antibacterial remedy
"The antimicrobial activity of the Pelargonium essential oil was tested against Gram-negative bacteria (Pseudomonas aeruginosa, Proteus mirabilis, Escherichia coli), Gram-positive bacteria (Staphylococcus aureus, Enterococcus faecalis) and fungi (Candida albicans).
Disc diffusion method was used to study antimicrobial activity.
Results: Inhibition zones showed that the studied essential oils were active against all of the studied bacteria. In the case of Candida albicans, the complete inhibition of the fungus's development was observed. In the cases of Pseudomonas aeruginosa and Staphylococcus aureus we observed an inhibition comparable to that obtained by the use of an appropriate antimicrobial substance."
(https://pubmed.ncbi.nlm.nih.gov/25671182/)
Pierre Franchomme, French aroma research scientist, published photos of electro-microscopic studies showing that essential oils of Geranium, Neroli and Niaouli were able to kill Staphylo-coccus aureus, Escherichia coli, Herpes I virus and Candida albicans in very short time.
Eliane Zimmermann, intl. Aromatherapist, recommends Geranium oil for the recovery of smell in case of anosmia due to Covid-19:
"Affected late-damage patients, who had COVID-19, can design their own olfactory training with natural organic scents. I recommend the following essential oils:
• Rose geranium (Pelargonium x graveolens) or Rose (Rosa damascena)
• Sweet basil (Ocimum basilicum) or Clove (Syzygium aromaticum)
• Peppermint (Mentha x piperita) or Eucalyptus (Eucalyptus radiata/globulus)
• Lemon (Citrus limonum) or Bergamot (Citrus bergamia)
• Vanilla (Vanilla planifolia)."
Eliane Zimmermann, Aromatika magazine 2020. 7.4.1
Intl. aroma research scientist Salvatore Battaglia remarks:
"that some clinical trials had examined the antiviral activity of essential oils vaporised on airborne influenza viruses. One study found, in the vapour phase, essential oils such as Geranium, Bergamot, Eucalyptus, Cinnamon, Lemongrass and Thyme oil were very active against influenza virus after only 10 minutes of exposure."
Feb 5, 2020 | Blog By Salvatore Battaglia
Lydia Bosson writes about opera singers who started to clear their voices by using Geranium oil – also to make their voices more powerful during the performance.
Lydia Bosson, Guérir aves l'Aromathérapie
"In the present study, we clearly demonstrated that Frankincense, Pine needle and Geranium essential oils suppressed cell viability, proliferation and invasion in human Breast Cancer cell line MCF-7. In addition, we determined that the Frankincense, Pine needle and Geranium essential oils induced apoptosis, but did not affect cell cycle progression.
(https://pubmed.ncbi.nlm.nih.gov/29115548/)
Some experiences
"Hello, life is on the move!
Phone call from a friend who works in an hospital: a nurse diffused a few drops of EO Geranium Rosa in the room where an old lady stays – very much withdrawn on herself since months and years…
Amazing effect: almost immediately she wakes up and speaks. The staff looked at the pharmacist and asked for explanations. The pharmacist who has been trained in Aromatherapy asked me to give him a special price for his order of 40-50 aroma-diffusers and EOs as he wants to officially implement the use of EOs in this department of the hospital."
Philippe Couturier, Dec. 2010
"I used to manage my stress badly – as soon as I got submerged by my work, I became irritable, angry and choleric. Since the time I am using the hydrolat of Geranium as an "auric spray" and apply the hydrolat on the back of my hands, the solar plexus and inhale the hydrolat from the bottle, I find my serenity again – even during the most turbulent moments."
Lydia Bosson, Guérir aves l'Aromathérapie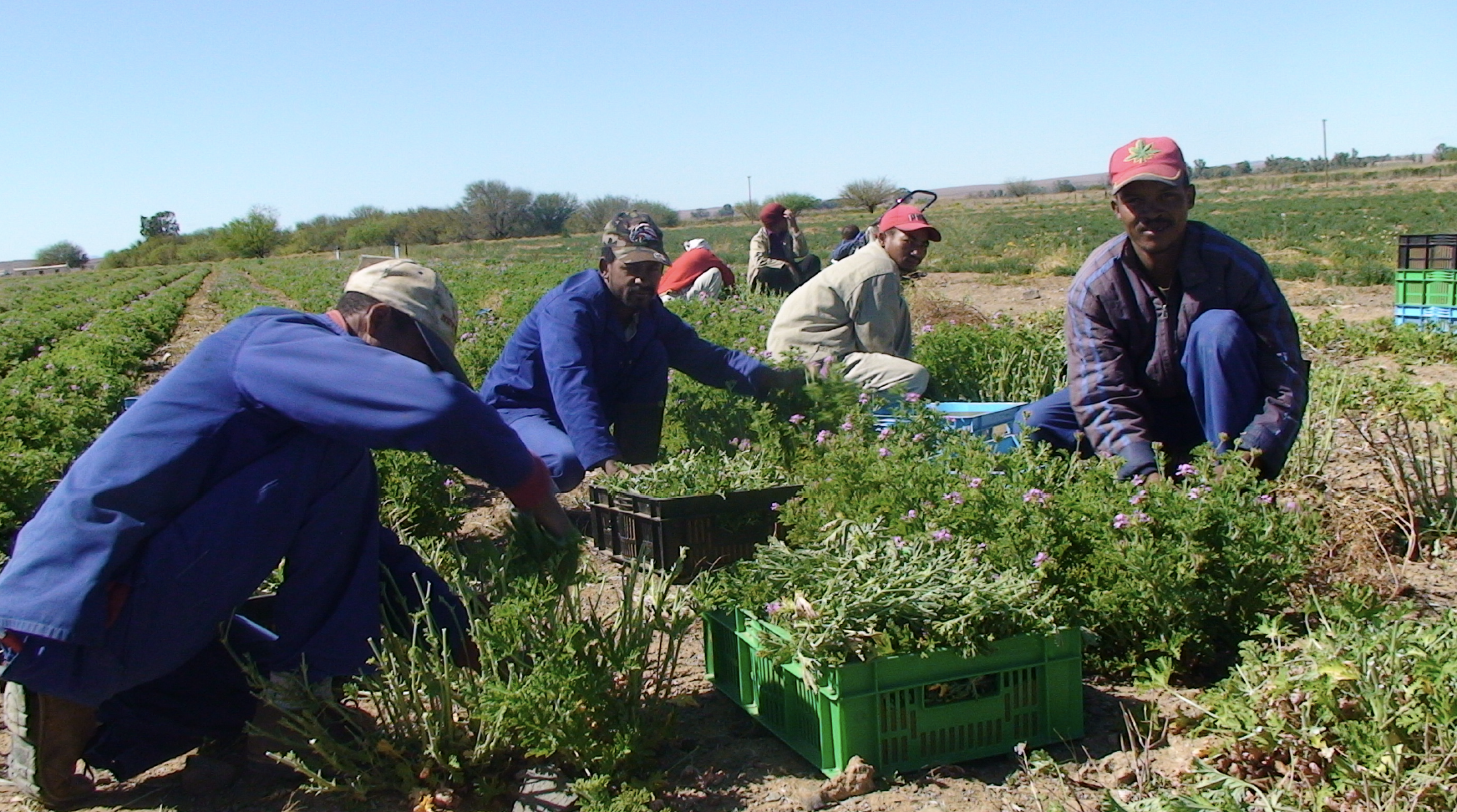 "My intent for using these oils is not only that my body benefits from cleaning out all the toxins, but also the tension is released. Geranium is a "super" oil for balancing all the hormones and especially the nerve endings. I found this oil works remarkably good with my emotions, especially when I am dealing with shock."
Zsuszana G. Davidson, Living with Epilepsy and Aromatic Oils
"I had a collision with my son recently and my hand was cut pretty badly… I used Geranium to stop the bleeding. I continued throughout the day using Lavender to heal the cut and minimize the bruising. By the next day, I was able to remove the bandage – the bruising was completely gone, and the cut was sealed and already much smaller."
"I have had bad acne for my entire adult life, tired of all kinds of expensive treatments and products, none helped. When Liz handcrafted face balm with essential oils for me, I was sceptical at first, but the result turns out to be better than wonderful! In just less then 3 weeks, I have clearer skin, more even skin tone, less oily T-zone, it is AMAZING! I can't thank her enough, now I am a true believer of essential oils! …Good to know. The essential oils used are Frankincense, Myrrh, Sandalwood and Geranium.
Jade Lim, Singapore
Some health care formulas
ACNE IN TEENAGERS (D. BAUDOUX)
• Rose Geranium: 5 drops
• Carrot: 10 drops
• Palmarosa: 10 drops
• Tea tree: 5 drops
• Sweet almond oil: 2 tablespoons
Use: Mix vigorously before each application. Pour 3-4 drops of the mixture into the palm of your hand and gently apply the mixture. Leave on for 5-10 minutes, then wipe off with a soft, clean cloth.
ANTI-STING LOTION – INSECT REPELLENT (C. LACROIX)
• 150 drops of Citronella
• 100 drops Rose Geranium
• 100 drops Lemon Eucalyptus
• 100 drops Patchouli
• 50ml of Sweet Almond carrier oil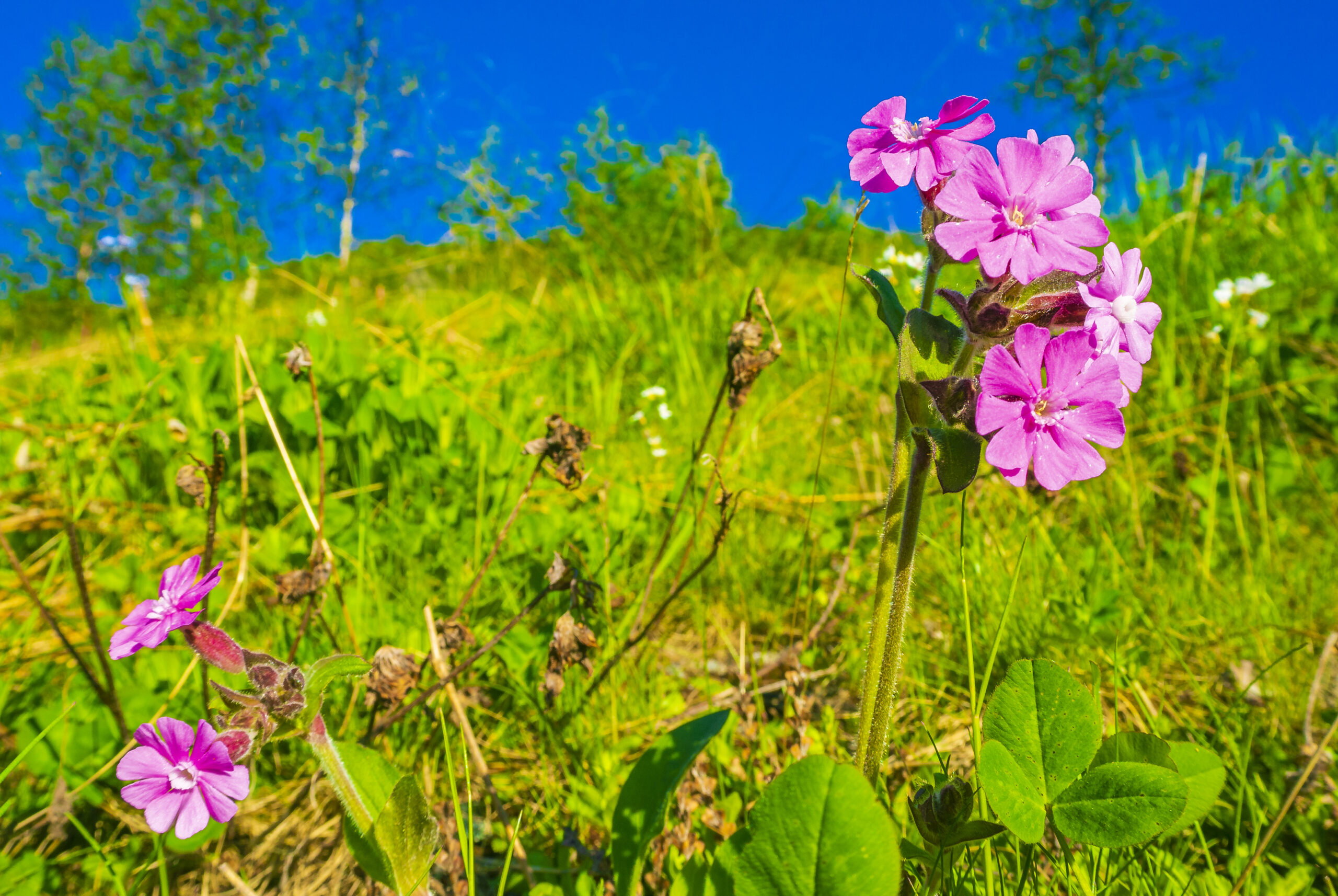 Procedure: Mix the essential oils, then complete with sweet Almond vegetable oil.
Use: Apply a few drops only to parts of the body exposed to insect bites. Also put on a cotton hat and repeat after 90 minutes.
ANTI-WRINKLE CREAM WITH ROYAL JELLY (S. MACHETEAU)
• 2 tablespoons of shea butter
• 1 tablespoon of Argan oil
• 1 tablespoon of Avocado Oil
• 3 teaspoons of Rose hydrolat
• 1 small spoon of vegetable glycerine
• 1 teaspoon of honey (90%) and royal jelly mixture (10%)
• 10 drops of Geranium essential oil
• 6 drops of grapefruit seed extract
• 2 drops of natural vitamin E
Use: Mix the carrier oils and the butter until a smooth mixture is obtained. Gradually add the hydrolat while emulsifying. Add the vegetable glycerine, then the rest of the ingredients.
LYME DISEASE
Rosemary oil, Lavender oil, Geranium oil, Rose oil: these essential oils are all aromatic oils, and each are known to help stop the spread of infectious bacteria. These nice-smelling oils stop the borrelia bacteria from communicating with other borrelia bacteria, thus preventing any further spreading of the infection or relapse of infection in the future.
2017 Health Watch
SHINGLES
"There are reports in the medical literature that support the use of Peppermint oil and Geranium oil to treat pain associated with shingles. One patient, who had not had any relief with traditional medications, tried Peppermint oil and reportedly had an immediate effect."
https://www.healthline.com/health/shingles-essential-oils#a-doctors-perspective
An oil for all airs and affaires
Geranium oil is such an enticing spirit-enhancing energizer! In its natural beauty and charm, it bestows right away pleasure and enjoyment, uplifts instantly and "tonifies" mind and intellect in a powerful, nearly demanding attitude. Geranium oil is certainly not meant for a drowsy relaxation, but for a clear cut, immediate "kick" into the cortex and the limbic system to mobilize hidden creative and emotional reserves – helping us to rise to our own earthly and spiritual identity.
Really, a fiery beauty for the spells of all worlds!