Among all the aromatic treasures offered by Nature, there is a pearl with countless benefits: Ravintsara (Cinnamonum camphora). Known as the "beautiful leaf" in the Malagasy traditional medicine and praised as the "oil that heals", it serves today to answer a wide demand in treating diverse psycho-physiological problems.
Cinnamonum camphora belongs to the Lauraceae family and is the name for the Camphor tree in general. Most of the different chemo-types (borneone, linalool, safrole, etc.) of this tree are found in East Asian countries. Ravintsara is the 1,8-cineol (eucalyptol) type of the Camphor tree, specific to Madagascar. It grows up to a height of 20-30 meters in the wet tropical forests and wild highlands of a nearly untouched paradise.
Obtained from the strong foliage by steam-distillation, Ravintsara oil ranks among what we may call the most popular "Panacea" (cure-all) oils in Aromatherapy. It should not be mistaken for the "Ravensare oil" derived from the specie "Ravensara aromatica" which has a totally different biochemistry.
The balsamic scent emanating from the leaves reminds us of the fresh fragrance of Eucalyptus, or even the North African Rosmary 1,8-cineol type. Yet, Ravintsara's fragrance is not too penetrating and conveys a slightly sweet and warm impression.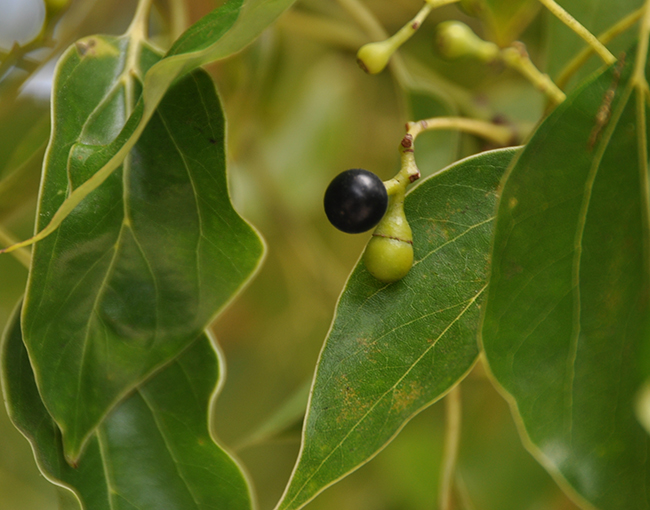 Multiple healing properties
As a powerful stimulant Ravintsara oil quickly relaxes aching muscles and sinews.
However, it is mostly valued for its anti-viral, anti-bacterial, anti-fungal and antiseptic properties.
Ravintsara can also help against liver problems like viral hepatitis and viral gastroenteritis. It plays even a role in the treatment of mononucleosis, cholera, and other challenges of the immune- or also the lymphatic system. The oil is an ideal choice for fighting cold sores, genital herpes or chronic allergies. It is also recommended against shingles, warts, ringworm and athlete's foot.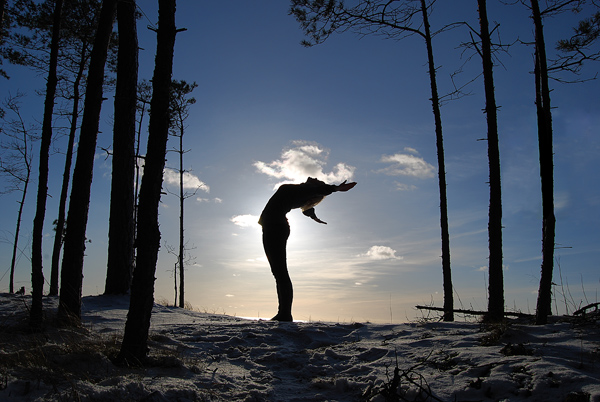 Breathe out – breathe in
The oil with its potent biochemical compounds counts among some of the best aromatic remedies assisting us in a very soft way in case of respiratory problems such as lung infections, whooping cough, flu, influenza, sinusitis, tonsillitis, otitis and rhinopharyngitis. Mixed with Shea butter (for example) or with some drops of a preferred carrier oil, Ravintsara can be applied as a remarkable chest rub in case of bronchial congestion. This blend can also serve for a warm compress in case of sore throat. The oil is known to be very well tolerated by the skin and is totally non aggressive. However when using Ravintsara for young children one should dilute it in a carrier oil.
From the Ayurvedic perspective Ravintsara can be considered dry and light in nature. It is therefore great for reducing kapha-type congestion especially prevalent in Spring. By building up Ojas, the subtle energy that fuels our body with inner fire and vitality, it largely contributes to our health and wellbeing.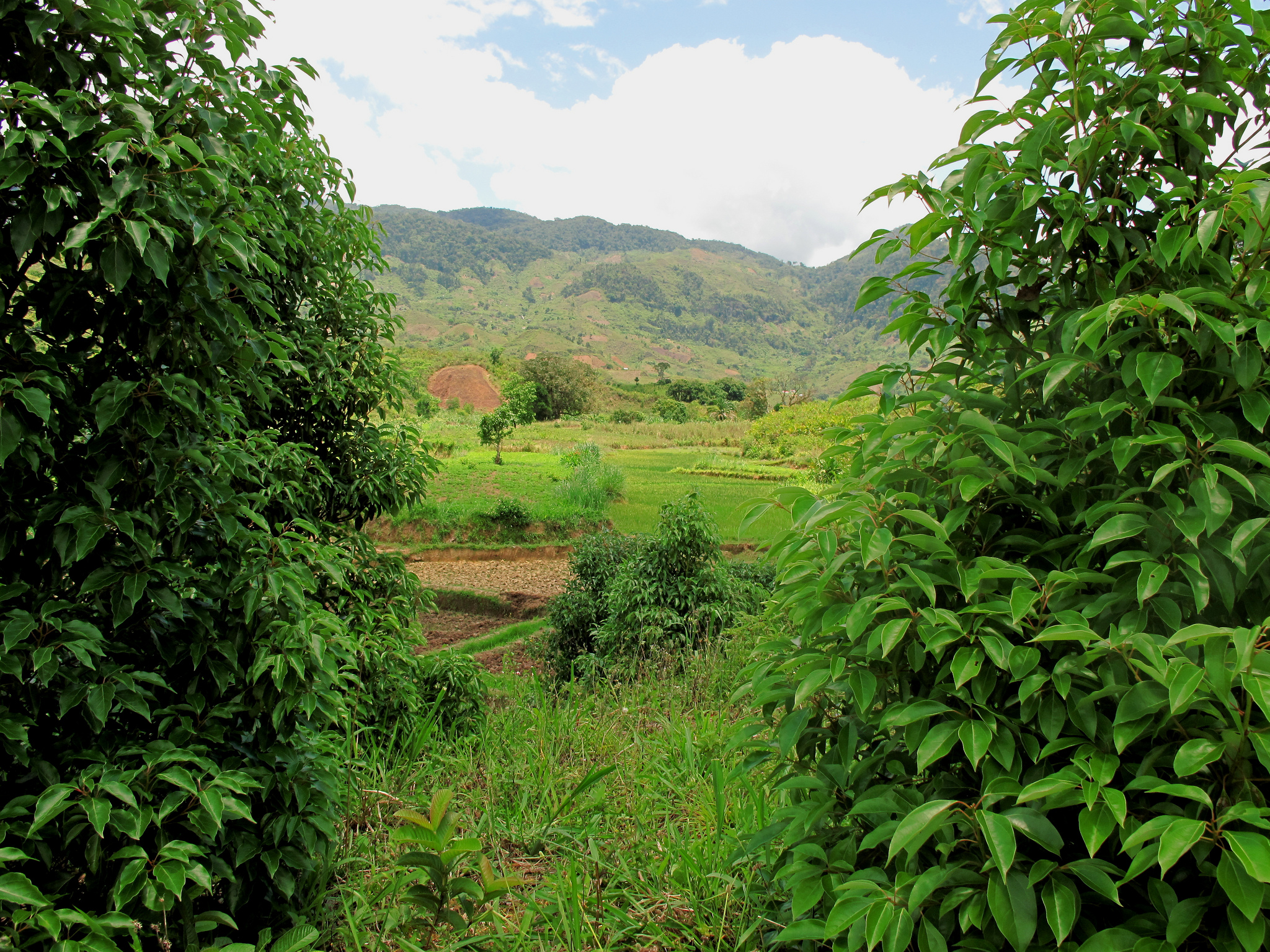 A Medicine Tree to reboot
Ravintsara has the remarkable ability to tonify and at the same time relax the human nervous system. It is particularly beneficial in case of:
Asthenia and lethargy

Mild depression, anxiety, or nervous fatigue

Restlessness, insomnia and burn-out
All such problems are usually caused by an exhausted nervous system. For babies and children, in case of stress and sleeping problems, Ravintsara should be used diluted in a carrier oil for a massage on the solar plexus or under the feet.
Ravintsara oil can clear painful emotions from our heart and release traumas, which may hinder the free flow of energy in our breathing. It helps to let go of tensions and induces positive feelings of hope and joy. Ravintsara has a very pleasant cooling and uplifting freshness which makes one deeply let go of mental fixations and thereby raise our spirit. Stirring up blocked energies Ravintsara stimulates the mind for a more positive handling of paralyzing emotions.
Yes, Ravintsara is truly "The Oil that Heals", the "Medicine Tree" as it is always considered in Madagascar. Are we not getting here a glimpse into the holistic perfection of Nature? So much beneficial energy! And so many complementary healing properties in just a small bottle!
What a wonderful time to live in! One cannot but feel deeply grateful to Nature for such an amazing gift made available to us in the carousel of our modern, hectic world!
Some recipes with Ravintsara essential oil
Flu : Prevention and Remedy
3 drops Ravintsara

3 drops Cardamom

3 drops Black or Red peper

9 ml of Jojoba or Argan oil
Massage the chest or use in a bath.
Nervous Fatigue
5 drops Ravintsara

2 drops Vetiver

9 ml of Jojoba or a carrier of your choice
Rub a few drops on the wrists, solar plexus and neck several times through the day and at bed time.
Anxiety Relief
2 drops Ravintsara

2 drops Rose

6 drops Tangerine

9 ml of Coconut Oil or any carrier oil
Rub a few drops on the wrists, solar plexus and neck several times through the day and at bed time.
* to find Oshadhi near you please visit www.oshadhi.com